CEREC One-Visit Crowns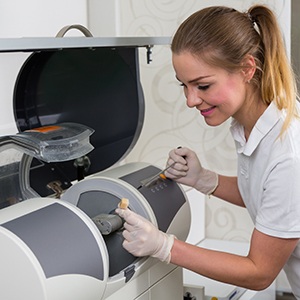 At Edgewood Dental, we are passionate about patient convenience. CEREC One-Visit Crowns is yet another way that we make dental care fit your schedule and lifestyle. If you've ever had a dental crown, inlay, onlay, bridge, or other restoration, you likely remember the process took two or more appointments, and you had to wear a less-than-ideal temporary restoration between appointments. When patients come to us with a damaged tooth, we know the last thing they want to hear is that they're going to need to make multiple trips to the office. That's why we've invested in the CEREC system and completed necessary training to provide high-quality dental restorations in just one appointment. Contact our Michigan City dental office to find out more or schedule an appointment today.
What is CEREC?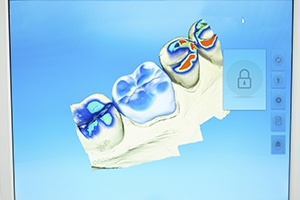 CEREC literally stands for chairside economical restoration of esthetic ceramics. While that's quite a mouthful, the technology itself is simple. Rather than relying on dental labs to create and return custom restorations like crowns and bridges, the CEREC system allows us to complete the entire process in our office. This also means we complete the preparation, design, crafting, and placement of restorations all in one appointment.
How Does it Work?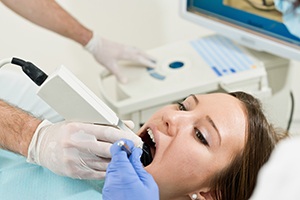 For the most part, the CEREC restoration process mimics the traditional procedure, but it's all complete in one appointment. We begin by numbing the area and preparing the tooth. Then, we use our CEREC system to capture digital impressions of the tooth. Once these impressions are captured, we design your restoration, and it is sent to the in-office milling unit where your custom crown is crafted. Then, we place the restoration, make any necessary adjustments, and you leave the office with a flawless smile.
What are the Benefits?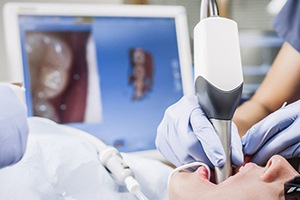 The most obvious benefit is, of course, time savings, but there are other advantages to CEREC restoration, including:
Each restoration is custom crafted from high-quality ceramic which looks and feels just like natural tooth structure
We're able to make adjustments to the design immediately in office no additional appointments necessary
We use an all-digital design and crafting system and design the restorations on chairside monitors, so you'll be able to provide input and ask questions throughout the process
There's no need to place and remove a temporary, which can lead to unintended damage to the remaining healthy tooth structure