CEREC One-Visit Crowns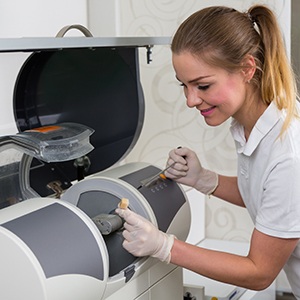 At Edgewood Dental, we are passionate about patient convenience. CEREC One-Visit Crowns is yet another way that we make dental care fit your schedule and lifestyle. If you've ever had a dental crown, inlay, onlay, bridge, or other restoration, you likely remember the process took two or more appointments, and you had to wear a less-than-ideal temporary restoration between appointments. When patients come to us with a damaged tooth, we know the last thing they want to hear is that they're going to need to make multiple trips to the office. That's why we've invested in the CEREC system and completed necessary training to provide high-quality dental restorations in just one appointment. Contact our Michigan City dental office to find out more or schedule an appointment today.
What is CEREC?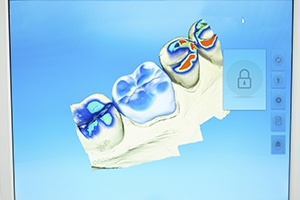 CEREC literally stands for chairside economical restoration of esthetic ceramics. While that's quite a mouthful, the technology itself is simple. Rather than relying on dental labs to create and return custom restorations like crowns and bridges, the CEREC system allows us to complete the entire process in our office. This also means we complete the preparation, design, crafting, and placement of restorations all in one appointment.
How Does it Work?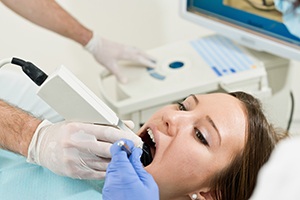 For the most part, the CEREC restoration process mimics the traditional procedure, but it's all complete in one appointment. We begin by numbing the area and preparing the tooth. Then, we use our CEREC system to capture digital impressions of the tooth. Once these impressions are captured, we design your restoration, and it is sent to the in-office milling unit where your custom crown is crafted. Then, we place the restoration, make any necessary adjustments, and you leave the office with a flawless smile.
What are the Benefits?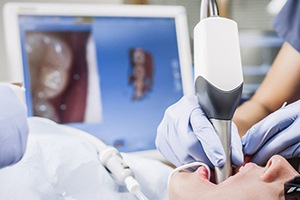 The most obvious benefit is, of course, time savings, but there are other advantages to CEREC restoration, including:
Each restoration is custom crafted from high-quality ceramic which looks and feels just like natural tooth structure
We're able to make adjustments to the design immediately in office no additional appointments necessary
We use an all-digital design and crafting system and design the restorations on chairside monitors, so you'll be able to provide input and ask questions throughout the process
There's no need to place and remove a temporary, which can lead to unintended damage to the remaining healthy tooth structure
Dental Crown FAQs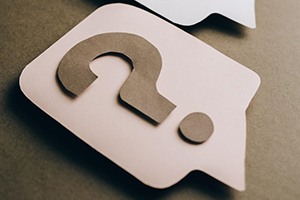 Dental crowns in Michigan City have been used for generations to rehabilitate compromised teeth. Despite their decades of success, they are a big commitment. It is normal to have some concerns before getting your restoration. Here are the answers to a few frequently asked questions to ease any apprehensions until your consultation.
Does it hurt to get a dental crown?
No one likes to experience any pain while in the dental chair, but there isn't any reason to worry. Your dentist in Michigan City will use a local numbing agent to keep you comfortable as your tooth is prepared. Although a topical anesthetic is often enough, patients with dental anxieties may benefit from sedation. Our office embraces the latest technologies to promote patient comfort, like CEREC. After your tooth has been prepared, you won't have to hold an uncomfortable material in your mouth for several minutes. A quick, painless scan is all your dentist will need to create your restoration right in our office. You won't have to stress about a second appointment.
Does a dental crown feel natural?
Your crown may feel a little unusual at first, but after a few days, you may forget it is there. While your temporary restoration won't feel like a real tooth, your permanent crown will be made of durable material. Your dentist will use a 3D impression of your tooth and CAD/CAM technology to ensure your crown meets your exact specifications. It will fit over your tooth like a glove to feel nearly identical to your natural teeth.
Are dental crowns covered by dental insurance?
If a crown is deemed necessary for your oral health, you can expect your insurance to cover a portion of the cost. Although every plan differs, most companies classify crowns as a major procedure. As a result, they are covered about 50% after meeting your yearly deductible. We'll help you maximize your coverage to lower the amount you'll pay. Besides using your dental insurance, we offer various solutions to keep your treatment affordable, such as third-party financing. You can pay for any out-of-pocket expenses in monthly installments through a third-party financing company, like CareCredit.
Are dental crowns permanent?
A dental crown is designed to serve as a long-term solution; however, they aren't considered permanent. A crown will have to be replaced, eventually. On average, they last for 5 to 15 years, but it's not unusual for them to thrive for much longer with the right maintenance. You can protect your investment by following a solid oral hygiene routine at home and visiting your dentist regularly for a cleaning and checkup. Your dentist will check your crown at each appointment to ensure it is undamaged and functioning as intended. It's best to protect your crown from unnecessary wear and tear, like limiting hard or sticky foods, using your teeth to open packages, or chewing on inedible objects. Your dentist will also recommend wearing an athletic mouthguard if you play sports or a nightguard if you suffer from bruxism.