Dental Implants in Michigan City, IN
Rebuild Your Smile from the Root Up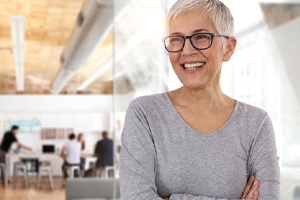 Are you getting increasingly irritated with the inconveniences of missing one or more teeth? Do you find yourself avoiding your favorite foods because you can no longer chew them? Are you nervous to smile in front of others? Fortunately, there is a way to make all of these problems disappear with dental implants in Michigan City. If you're missing teeth, then Dr. Haughtington and Dr. Noreika can place dental implants to rebuild your smile from the root up. Contact Edgewood Dental today to schedule your dental implant consultation.
Benefits of Dental Implants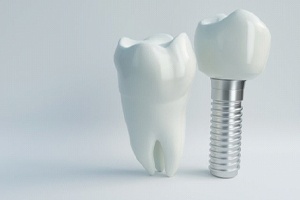 Unlike alternative tooth loss solutions, a dental implant replicates the entire structure of a missing tooth, including the root. Once we have placed this titanium post into your jawbone, the bone grows around the implant until it essentially becomes a part of your own body. This creates a sturdy foundation for your new teeth, ensuring they don't slip out of place.
Dental implants also stimulate your jawbone, preventing the deterioration that typically occurs after teeth have been lost. As a result, the bone remains strong enough to keep you looking young for quite some time. Thanks to the high-quality materials we use, your implants can easily last 30 years or more.
Indications for Dental Implants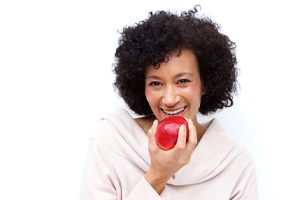 How many teeth have you lost? No matter your answer, our dentists can use any number of dental implants to replenish your smile. During your consultation, we can discuss all of your restorative options:
Missing Single Tooth
A traditional solution to replace one missing tooth would be to file down the remaining teeth on either side in order to place a dental bridge, sacrificing healthy tooth structure. Instead, a single implant root and crown can be placed into the gap without altering any of your other teeth.
Missing Multiple Teeth
If you're missing several teeth in a row, we can place an implant at both ends of the space in your smile. These posts can provide enough support for a bridge that recreates up to three consecutive teeth.
Missing All Teeth
Even if you've lost all of your teeth, dental implants are still an option. Rather than replacing each individual tooth with an implant, we can insert just four to six posts per jaw. This creates a strong foundation for a full denture that won't slide around.
Team-Based Dental Implant Treatment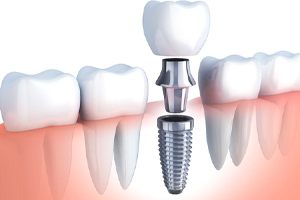 Unlike many general dentists, our dentists have undergone the advanced training necessary to be able to restore dental implants in-house. However, we do not provide placements (crowns, bridges, or dentures) for them. After your implant has been placed we takeover and finish the process so the end result will be a lifelike tooth that you are proud is part of your smile.
Understanding the Cost of Dental Implants
Each dental implant treatment is uniquely customized based on a patient's specific needs. Because of this, the cost of dental implants can vary greatly from person to person. The number of implants you require, the type of restoration used, and multiple other factors can all impact the price. Before beginning treatment, your implant dentist in Michigan City can discuss all of these factors with you and come up with a personalized cost estimate.
Although dental implants might have a higher initial cost than traditional dentures or bridges, we believe they are well worth the investment. In addition to offering far superior aesthetics and oral health benefits, they also last significantly longer. While conventional options tend to break down after 10 years or so, dental implants can last a lifetime, potentially saving you thousands in retreatment costs over the years.
Dental Implant FAQs
Understanding the cost, process, and benefits of dental implants in Michigan City is a great place to start, but chances are you still have a few questions on your mind. Fortunately, our team members at Edgewood Dental are here to make the research process easier by answering a few frequently asked questions about dental implants in the following section. Of course, if you can't find the information you're looking for, feel free to call us and ask!
Does Dental Insurance Cover Dental Implants?
Because some dental insurance companies view implants as an elective procedure, they may not cover the cost of treatment. That said, there are always exceptions to that rule. We recommend contacting a representative from your insurance company and asking them whether they'll cover dental implants. To make that process easier, a member of our team can look over your policy and find out how much coverage you're eligible for. We are in-network with many popular dental insurance plans, including:
Aetna
Assurant
Cigna
Delta Dental
Sun Life Financial
And many more!
If you still need assistance funding your new smile, we can help you apply for a low- or even no-interest payment plan through CareCredit.
What Is the Success Rate of Dental Implants?
Currently, dental implants boast a remarkable success rate of 95%. In order to preserve this high standard, our dentists will not place implants unless and until they have determined that you're a good candidate. Our team will make sure your jawbone is strong enough to support implants and your gums are healthy enough to prevent infections that could lead to implant failure. With these precautions in place, you can expect your implants to last a lifetime!
How Do I Take Care of My Dental Implants?
Another reason behind dental implants' impressive success rate is that maintaining them is actually quite similar to caring for your natural teeth. Here are some simple tips to help your implants last as long as possible:
Visit us for a checkup and cleaning at regular intervals, usually once every six months.
Brush all of your teeth (natural and implant-retained) twice a day.
Floss around your restoration daily. If you need help, we can recommend certain products that may help, such as a floss threader or water flosser.
Stick to a diet low in processed sugars and high in fresh fruits and vegetables.
Avoid using tobacco.
Does Getting Dental Implants Hurt?
While dental implant surgery might sound painful, the procedure is virtually painless, thanks to modern advancements in surgical techniques and anesthetic techniques. Before we begin, we'll make sure your mouth is completely numb. Your procedure itself shouldn't hurt. However, it's perfectly normal to experience some soreness and swelling in the few days following your surgery. We'll provide you with guidelines on reducing this discomfort, such as using cold compresses and taking pain medication as directed.