Porcelain Veneers – Michigan City, IN
Giving Your Teeth the Makeover They Deserve
Who doesn't want an attractive, perfectly aligned smile? If you're looking at the imperfections on your own teeth and wondering why you can't have a smile that exudes confidence, guess what? You can! With porcelain veneers in Michigan City, you can turn your imperfect smile into one of pure beauty. At Edgewood Dental, our team of dentists can give your teeth the makeover they deserve with this fast and effective cosmetic solution. Don't wait! Contact our office today to schedule a consultation.
What Are Porcelain Veneers?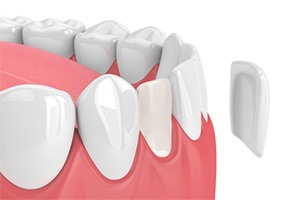 If you're looking for a cosmetic solution that will completely transform your smile, then porcelain veneers are right for you. These thin sheath coverings act like a mask, covering any unsightly imperfection existing on the surface of your teeth. Needless to say, we can take your smile from drab to fab in just two appointments!
What Can Porcelain Veneers Fix?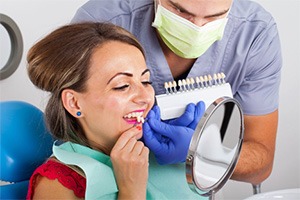 Whether you have chips, cracks, stains, discoloration, gaps between your teeth or minor misalignments, porcelain veneers are a versatile treatment that can fix all these cosmetic flaws. You and Dr. Valerie Haughtington or Dr. Vidas Noreika will determine the color, size, and shape of your new veneers, ensuring you receive your ideal results.
What is the Process of Getting Porcelain Veneers?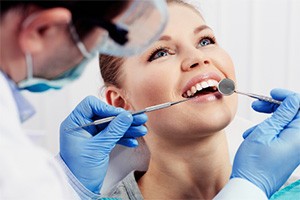 When preparing for your porcelain veneers, your initial visit will include one of our dentists preparing your teeth. This will require them to remove a small bit of enamel from each tooth to ensure the veneer lays flat and adheres to your natural tooth. Then, we'll take impressions of your teeth before placing temporary veneers. We'll send the impressions to the lab where your permanent veneers will be created. During your second and final visit, we'll place your veneers, giving you a flawless smile.
Am I A Good Candidate for Porcelain Veneers?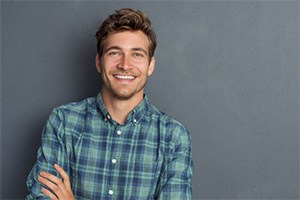 When considering porcelain veneers, it's important that our dentists thoroughly examine your mouth to ensure you are a good candidate for this type of treatment. While most people will qualify, there are some situations that might make veneers a less than suitable option:
Teeth grinding: If you're prone to clenching or grinding your teeth, veneers may not be the right option for you. This is because your veneers are not as strong as natural teeth and may chip. If we deem that you can receive porcelain veneers, it would be in your best interest to wear a night guard while you sleep to protect your teeth.
Lack of enamel: While our dentists will remove some enamel during the placement process, it's required that you have enough enamel from the start. If you have weakened enamel or not enough, there will be nothing for the veneer to bond to when placed.
Unhealthy teeth: It's imperative that you have healthy teeth. Yes, imperfections like chips, cracks, and stains can be covered up, but teeth affected by tooth decay or gum disease will need treatment prior to having porcelain veneers placed.