Meet Dr. Vidas Noreika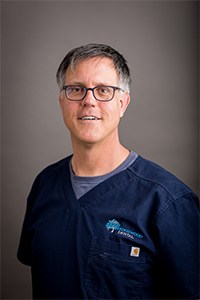 A lifelong resident of the Michigan City area, Dr. Noreika established Lakeshore Family Dental, PC in 1999. His educational career began with graduation from Michigan City Rogers High School in 1983. He completed a Bachelor of Science in Biology at Indiana University, Bloomington in 1987 and his Doctor of Dental Surgery at Indiana University School of Dentistry, Indianapolis in 1991.
As a member of the American Dental Association, the Academy of General Dentistry, and the Indiana Dental Association Dr. Noreika has actively kept up with continuing education and the ever increasing fast pace of technology and dental field developments.
The son of immigrants Dr. Noreika is native-born American, but is also proud of his heritage, easily converses in Lithuanian, and enjoys travel to Lithuania and beyond.
Always appreciative of the natural beauty of our area Dr. Noreika enjoys his time spent outside. Whether in his yard with his dog Margis, out in the woods or on the water all seasons are enjoyed. In recent years he has cherished the challenge and "therapy" of competitive sailing. As a crewmember of the yacht QuickSilver 33547 he reveled in capturing a first-place finish in the Midwest's premier race, the Chicago Yacht Club Race to Mackinac 2013—a 333 mile, 2 ½ day dash from Chicago to Mackinac Island, MI!
Dr. Noreika has an easygoing demeanor and feels that open communication is paramount. He believes in the Standard of Care and that an educated patient is a smart patient and therefore able to make the best treatment decisions. Bottom line, Dr. Noreika's desire is to provide you with the best dental care and to establish you as a happy patient here at Edgewood Dental.
More to Explore