Teeth Whitening - Michigan City, IN
Invest in a Bright Smile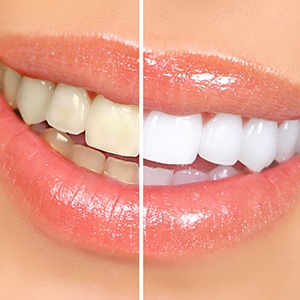 If your smile has lost its luster over the years, you're not alone. In fact, tooth discoloration is a concern for many adults and can be a leading source of embarrassment. You don't need to let yellow teeth damper your confidence. You can turn back the hands of time and reveal a brighter smile with teeth whitening in Michigan City. We offer both in-office and at-home solutions to give you dazzling smile you deserve.
Types of Tooth Stains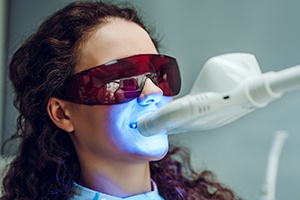 Believe it or not, not all stains are the same. There are two types: intrinsic and extrinsic. Intrinsic stains originate from within the tooth, such as from the use of certain antibiotics or trauma. Previously, intrinsic stains were nearly impossible to treat without needing an invasive procedure to cover them up. Thankfully, new advancements in whitening treatments can significantly reduce their appearance.
The most common type of stains is extrinsic, which occur on the surface of your teeth. They are caused by several factors, like genetics, poor oral hygiene, darkly pigmented foods, or tobacco. Extrinsic stains are fairly easy to treat with a professional whitening solution from your dentist.
At the first sign of discoloration, you've likely tried a few over-the-counter products, but they didn't give you the results you had wanted. You're not out of options. We offer 2 effective solutions to restore a vibrant smile.
In-Office Whitening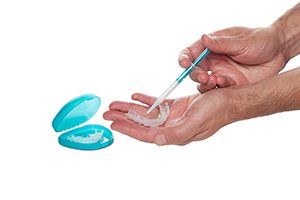 An in-office whitening treatment allows you to get your teeth as much as 8 shades whiter in about 1 hour. After your initial consultation, you're scheduled for your procedure. We'll begin by applying a protective barrier to your gums and lips to avoid any irritation to the soft tissues. The whitening agent will be applied to your teeth and a special dental light is used to activate the formula. The light is used for three 15-minute intervals to allow the whitening solution to deeply penetrate the enamel to resolve stubborn stains. You'll walk out of the office with a beautiful smile that can last with the right aftercare.
At-Home Teeth Whitening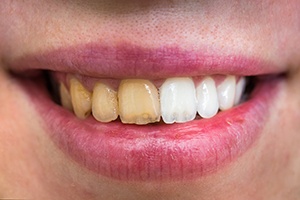 As an alternative to an in-office treatment, you can enjoy the benefits of an over-the-counter product while achieving professional results. We'll give you the aligners and the professional-grade whitening agent to use at home and around your own schedule for about 2 weeks. As each day passes, you'll notice your teeth becoming gradually whiter. You can achieve the results you want without ever needing to leave your home.
Benefits of Professional Teeth Whitening
When compared to over-the-counter products, professional whitening treatments offer various benefits, including:
Safe and effective solution
Reduced risk of tooth sensitivity
Drastic results
Improved self-esteem
Affordable
Lasting results
Invest in a Brighter Smile
Professional teeth whitening is an excellent solution to restore a youthful, confident smile. Your results can last for many years with the right aftercare, like maintaining your oral hygiene and visiting your dentist regularly. If you're ready to enjoy a bright smile again, it's time to contact our office today to schedule your consultation for in-office or at-home teeth whitening.