Restorative Dentistry in Michigan City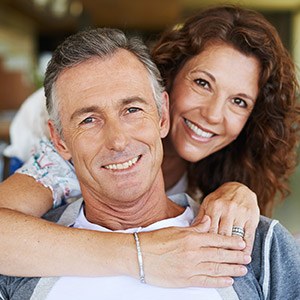 If you ever experience tooth decay, dental damage, facial trauma, or other oral health concerns that require restorative care, it's always best to let the Edgewood Dental team get started right away. Our goal is always to provide patients with the most conservative treatment options, and one of the best ways to ensure the availability of a conservative solution is to start repairing the smile before damage has time to progress to the advanced stages. We encourage our patients from Michigan City, Long Beach, and Beverly Shores to contact us right away for restorative dentistry services, so we can offer the most conservative solutions.
CEREC One-Visit Dental Crowns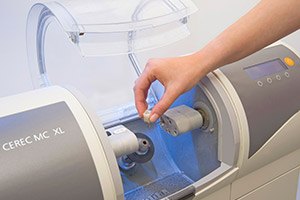 Many dental restorations require two or more visits to complete. We know this can be inconvenient for our busy patients. That's why we've invested in the state-of-the-art CEREC one-visit dental restoration system. Using CEREC we can prepare teeth, design, and craft a restoration, and place the flawless crown or bridge in just a single visit.
Dental Crowns & Bridges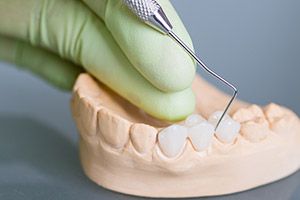 Dental crowns and bridges are two of the most commonly used restorative dentistry services we offer. Our skilled team provides these smile repair solutions using a variety of materials, and we always stand behind the quality of our work. Dental crowns are used to repair teeth following damage, and fixed bridges utilize dental crowns to support a replacement tooth.
Learn more about Dental Crowns & Bridges
Tooth-Colored Fillings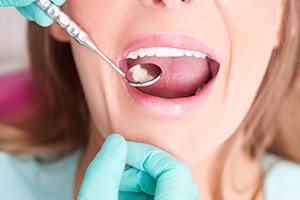 Traditional metal amalgam fillings used to be the gold standard in dental restoration, but today, they are fast being replaced by the cosmetically superior tooth-colored fillings. Made from high-quality composite resin that's shaded to match surrounding, healthy tooth structure perfectly, tooth-colored fillings blend in creating a seamless repair. Plus, they also form a much stronger bond with the enamel than a traditional filling, giving you a tooth that not only looks great but is truly built to last as well.
Learn more about Tooth Colored Fillings
Dentures & Partial Dentures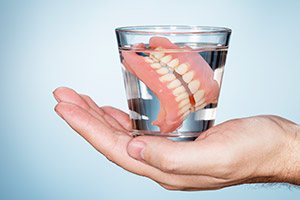 Patients with advanced tooth loss don't need to live with the daily challenges like difficulty chewing a variety of foods, unclear speech, or lack of confidence. Instead, let our team create a custom partial or full denture to restore your smile. Both partials and traditional dentures are crafted by using a gum-colored base material to support numerous replacement teeth. Our sleek and subtle Duraflex partials are made to fit snuggly between healthy teeth, and the entire prosthetic is held in place using flexible, lightweight plastic clasps. Full dentures are shaped to fit firmly against the gum line. This creates suction that should hold the denture in position if it is properly crafted. For increased stability, we also provide dental implant supported partial and full dentures. Rather than relying on surrounding teeth or suction for support, dental implants hold the denture in place just like natural tooth roots.
Root Canals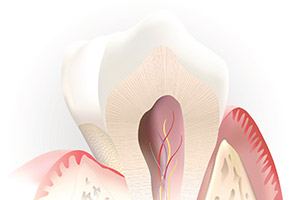 We promise root canals are not as scary as people make them out to be. Contrary to popular belief, root canal therapy actually relieves painful toothaches rather than causing them. These treatments are used to repair teeth when patients experience decay or damage that access the inner layer of the tooth called the pulp. Inside the pulp, the entire nerve system of the tooth is housed. When dental damage accesses this nerve, the result is the severe toothache pain and dental sensitivity that have made root canals notorious among patients. The procedure itself significantly alleviates this discomfort. We numb the area around the tooth. Then, we drill an access hole to the pulp and use files to extract the pulp and nerve tissue. We refill the tooth with a similar substance and reseal it. In most cases, we will also place a dental crown to protect the treated tooth from additional damage.
Tooth Extractions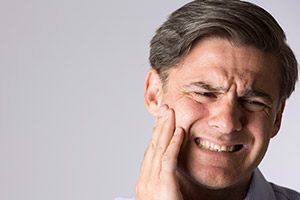 Our dentists will go above and beyond to help patients prevent tooth loss, but there are cases where removing teeth is the best way to safeguard patients' oral health. When this occurs, we offer safe, painless tooth extraction for our patients, and when necessary, we will also provide tooth replacement options as part of the care plan. Some of the reasons we may extract teeth include:
Severe decay or damage rendering your tooth incapable of supporting a restoration
As part of preparation for orthodontic treatment due to crowding one or more teeth may be removed to allow the remaining teeth to move into their ideal positions
Prior to designing and placing dentures, we may need to remove teeth that are at risk for future decay or damage that may compromise the prosthetic
Wisdom teeth erupting late in life when many patients do not have the jaw space to accommodate this additional set of molars
Nitrous Oxide Sedation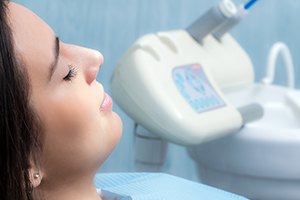 For many patients, even our warm, inviting dentistry practice can elicit unnecessary dread. For these patients, those who struggle to numb with local anesthesia, and those who need to complete numerous or complex treatments, we may recommend nitrous oxide sedation. You may have heard it referred to as laughing gas. This is because of the euphoric sensation patients experience when under its influence. We simply place a mask over patients' noses and they inhale the nitrous and oxygen mixture during treatment. The dose is easily adjustable, so we can help patients maintain optimal comfort. Best of all, the effect wears away quickly, and you'll be able to return to your regular daily routine right away.