Dentures – Michigan City, IN
An Effective Way to Restore Missing Pearly Whites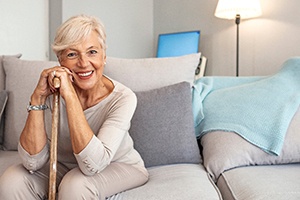 If you're struggling with gaps in your smile, you aren't the only one. Roughly 120 million Americans are also missing teeth, which can make it difficult to eat comfortably or smile confidently. Fortunately, our team at Edgewood Dental can fully restore your pearly whites with dentures in Michigan City. With the advancements in dentistry, you'll be able to enjoy custom-fitted and natural-looking replacement teeth that can last much longer than those in the past. Read on or give us a call if you'd like to know more about dentures today!
Who Is a Good Candidate for Dentures?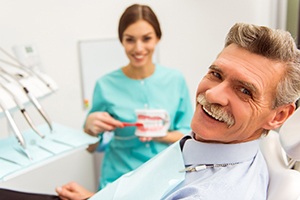 Are you unsure if you're eligible to get dentures? If you're missing teeth but have good oral health, then you're likely a good candidate for this restoration treatment. The only way to know for certain is by scheduling a consultation with us. Our team will evaluate your dental situation, understand your smile goals, and determine the best way to restore your missing pearly whites. This will also give us a chance to detect any developing issues we'll need to address beforehand, which may require you to get preliminary treatments like gum disease therapy or tooth extractions.
Types of Dentures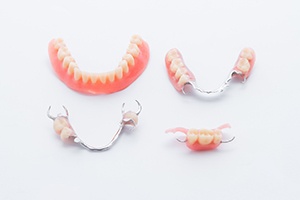 There are several kinds of denture options to consider. Here's what you can expect from each when restoring your smile:
Partial Dentures
This treatment can replace several missing teeth simultaneously. Partial dentures are especially beneficial for patients who are struggling with moderate tooth loss and still have other remaining pearly whites. These restorations use a gum-colored base to support the new teeth, keeping them firmly in place with a subtle metal framework.
Full Dentures
If you're missing entire rows of teeth, then full dentures are an effective and popular solution. These custom-made prosthetics are designed to fit your exact smile specifications through natural suction, denture adhesive, or both. Not only do they look and feel like natural pearly whites, but they can easily last several years with proper maintenance.
Implant Dentures
Unlike traditional ones, these restorations are directly anchored to your jawbone via dental implants. With these titanium posts serving as your new permanent roots, you'll be able to enjoy extremely stable and natural-like dentures. They'll also help preserve your jawbone, prevent further tooth loss, and can typically last 20 years or more.
The Benefits of Dentures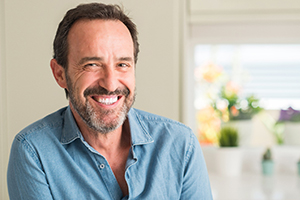 With various options available for dentures, you can be sure to enjoy multiple advantages of restoring your missing teeth. These benefits include:
Completely personalized, lifelike restorations.
Improved biting power (around 80% or more with implant dentures).
Replacement teeth that seamlessly blend with the rest of your smile.
Easy cleaning and maintenance.
An effective solution that has a lifespan of 10 years or more.
Denture FAQs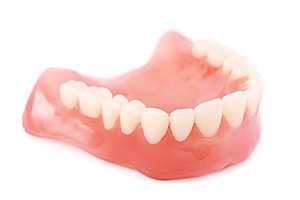 If you're thinking about getting dentures, you're probably already having to deal with the challenges that come with missing teeth. The sooner you can restore your smile with dentures, the better your quality of life will be. If you have a few questions that you want answered before you get dentures, first check the FAQs below to see if you can find the answers you're looking for; then reach out to our practice to ask anything else that might be on your mind.
Should I Have All My Teeth Pulled to Get Dentures?
We don't normally recommend having teeth removed if there are still treatments available that could help save them. That being said, if all or most of your teeth are badly decayed, or if they have come loose due to gum disease, there may not be any other choice but to extract them and replace them with dentures.
Keep in mind that there is no upper limit to the number of teeth that can be removed during a single appointment. However, some teeth might be more difficult to extract depending on the circumstances. We can go into more detail about what the extraction process will look like at your initial consultation.
Will Dentures Change the Shape of My Face?
As a matter of fact, dentures can actually improve your facial shape after tooth loss. Under normal circumstances, your natural teeth help support the muscles in your lips and your cheeks. So if teeth are missing, these muscles will start to collapse, which has the effect of making you look older than you are. But if you wear dentures, you can ensure that your lip and cheek muscles remain properly supported.
Be sure to pay attention to any signs that your dentures might no longer fit properly. False teeth that don't fit won't provide the best support for the rest of your face. Give us a call if you believe your dentures might need to be refitted or replaced.
Can I Still Eat Steak with Dentures?
Many denture wearers find eating steak and other tough meats challenging. Fortunately, you can still enjoy this type of food if you make the right preparations:
Choose cuts of beef that are easier to chew, such as tenderloin.
When cooking steak, take the time to thoroughly tenderize it first.
Be mindful of how large each bite is. It's best to cut your steak into pieces that are as small as possible.
People who just got their dentures often use adhesive to keep them in place to help with chewing steak and similarly tough foods.
What is the Average Age for Dentures?
The odds of losing teeth tend to increase as you get older. About 57% of people between ages 65 and 74 wear dentures; meanwhile, only about 33% of people between the ages of 20 and 39 have any number of missing teeth to begin with.
However, it's important to remember that there is no such thing as "too young for dentures." You can be a potential candidate for this type of restoration regardless of age; what matters is whether you have any teeth that need to be replaced.