Michigan City Preventive Dentistry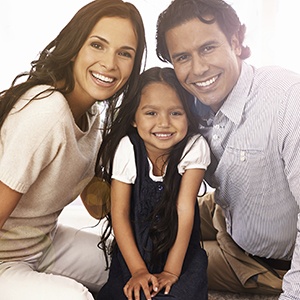 People say an ounce of prevention is worth a pound of cure, and we stand by that motto at Edgewood Dental. The foundation of all oral health care plans in our Michigan City dental office is complete preventive maintenance both in our office and at home. From checkups and cleanings every six months to life-saving oral cancer screenings, our dentists and team are here to help you achieve and maintain your healthiest smile for a lifetime. If it's been six months or six years since you last visited the dentist, give the Edgewood Dental team a call. We'll make scheduling your appointment and create the perfect, personalized dental treatment plan a breeze.
Dental Checkups & Cleanings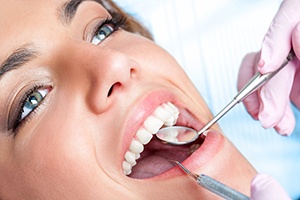 Regular dental checkups and teeth cleanings are the backbones of every oral health care plan. From the eruption of a child's first tooth throughout our patients' entire lifetimes, these periodic examinations are the key to maintaining optimal oral health. During every visit, we capture diagnostic x-rays and photos as necessary to ensure we have a clear understanding of the health of each patient's smile. We also complete a thorough visual and manual examination of the teeth and oral structures screening for warning signs of numerous concerns including tooth decay, gum disease, TMJ dysfunction, teeth grinding (bruxism), and oral cancer. A skilled hygienist will then carefully remove plaque and tartar buildup from all surfaces of teeth. If you have questions about your at-home hygiene, our hygienist will be happy to demonstrate good techniques, recommend products, and help you focus your routine on areas that may need extra help. Finally, you'll sit down with your dentist to discuss any areas of concern and create your personalized plan for ongoing care.
Dental Sealants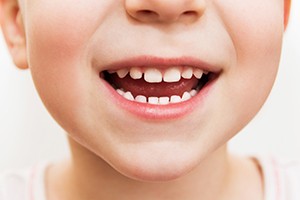 Dental sealants are a minimally invasive, maximally effective way to protect tooth enamel from decay. We can quickly apply this coat of clear sealant during any six-month checkup. We often recommend dental sealants for young patients who are just learning to care for their smiles, adults who find themselves more prone to decay, and those who have deep pits and grooves in the biting surfaces of teeth. If we determine you would benefit from dental sealants, we simply paint on a thin coat and use a curing light to harden them in place. Once the process is completed, dental sealants will remain in place for several years.
TMJ / Bruxism Therapy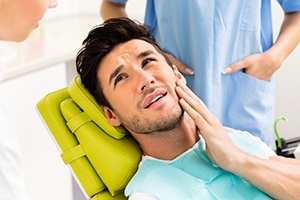 Temporomandibular joints (TMJ) are the connective tissues that attach the jaw to the skull bone, allowing for smooth, painless movement. When these joints are overworked or damaged, jaw movement can become painful or be impeded. This is an oral health condition called TMJ dysfunction (TMD). Bruxism refers to the unconscious grinding and clenching of teeth, typically during sleep. When this happens, patients may experience numerous side effects like excessive wear and chronic headaches. Bruxism may also lead to TMD. Not surprisingly, both conditions can often be treated by wearing a custom crafted nightguard that prevents unconscious jaw movement.
Oral Cancer Screening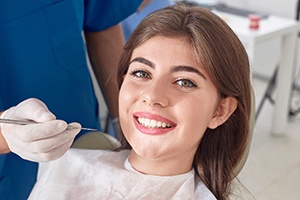 One person in the US dies every hour from oral cancer, and according to research conducted by the Oral Cancer Foundation, the best way to reduce this number is by diagnosing the disease in its early stages. That's where the Edgewood Dental team comes in. During every six month dental exam, Dr. Haughtington or Dr. Noreika will carefully examine every aspect of the smile, face, and neck looking for indicators of oral cancer. This can include a variety of symptoms including unexplained lumps or bumps, soft tissue discoloration, chronic hoarse voice, or sores that do not heal. If we notice any of these indicators, we'll be your partner in finding the right medical professionals to offer final diagnosis and treatment planning.
Sports Mouthguards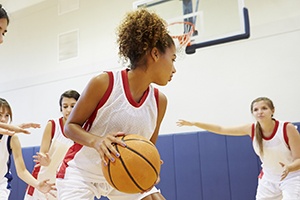 If you or your child regularly participate in sports, you should make sure everyone's teeth are protected before they hit the field, mat, or court. We can provide you with a custom-made sports mouthguard specially designed to fit you or your child's smile, and we guarantee it will be much more comfortable and do a better job of defending the teeth than any generic mouthpiece you can buy at the store.
Fluoride Treatment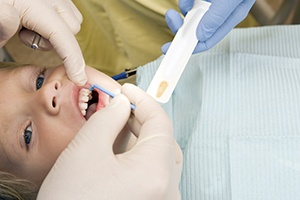 Fluoride is one of the many natural nutrients in the body that aid in the creation and maintenance of strong, healthy bones and that includes teeth. As teeth develop, systemic fluoride that is ingested from fluoridated drinking water and specific foods assist in the body's creation of strong, healthy teeth. Once primary and adult teeth erupt from the gum line, topical fluoride is needed to keep tooth enamel strong and healthy. Most patients receive adequate levels of fluoride from daily tooth brushing. However, for those who are prone to decay, professional fluoride applications during six-month dental checkups may be beneficial.
Emergency Dentistry in Michigan City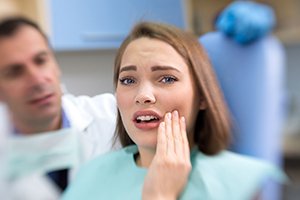 Emergencies happen! While they can be frightening and painful, there's no need to panic. Instead, take a deep breath and give us a call. We're here to help when our patients need us. If at all possible, we will fit you in for an appointment on the day you call us. When we're unable to see you right away, one of our team members will walk you through steps to take that ensure your safety and comfort until your appointment time.
Children's Dentistry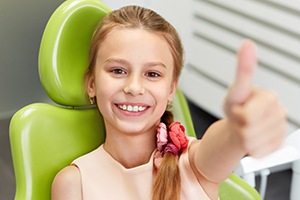 We always welcome kids at Edgewood Dental, and our friendly staff has years of experience working with young patients to help them achieve their healthiest smiles. We offer a variety of treatments that are specifically geared toward protecting children's smiles including fluoride treatments and dental sealants, but probably an essential aspect of children's dentistry is helping your little ones build a happy, healthy relationship with dental offices that will last a lifetime.
Periodontal Therapy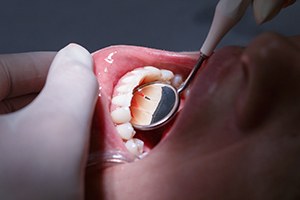 Periodontal (gum) disease is one of the most common oral health conditions affecting US adults. In the early stages, gingivitis, patients have very few, mild symptoms. As gum disease progresses, it can become quite serious leading to such adverse effects as:
Bleeding gum tissue
Inflamed soft tissue
Receding gums
Teeth that shift or a bite that doesn't feel as though it fits together properly
Chronic bad breath
We offer a variety of therapies to renew oral health for those patients who do experience gum disease. In the early stages, we'll typically recommend more frequent professional teeth cleanings, and as the disease becomes more severe, we may need to use advanced treatments including scaling and root planing.