Family & Children's Dentistry – Michigan City, IN
From Ages 1 to 99, We've Got All the Services Your Family Needs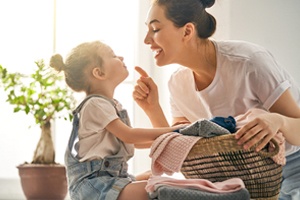 As a parent, child, and sibling, it can be difficult to make sure your entire family's dental needs are taken care of. At Edgewood Dental, we have an experienced and dedicated team of professionals that are all passionate about taking care of small pearly whites as well as fully-developed smiles. We want to provide children with the knowledge and treatment they need to maintain healthy, beautiful, and happy smiles into adulthood without making parents run across town from specialist to specialist. That's why your children's dentist in Michigan City offers services like fluoride treatments and dental implants all in the same office! We look forward to getting to know your family and providing you with care you can count on!
What is a Family Dentist?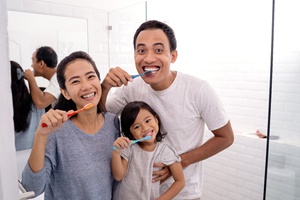 When you visit your family dentist in Michigan City, you'll notice that we offer comprehensive care including services like dental sealants for children and tooth replacement options like dentures. We even offer a wide variety of cosmetic treatments for teenagers and adults. The main difference between a family dentist and other specialists is that we're able to treat patients of all ages. From one year old to 99 and beyond, our facilities are equipped with advanced technology and an experienced team to take care of all of your loved ones under the same roof.
What are the Benefits of Visiting a Family Dentist?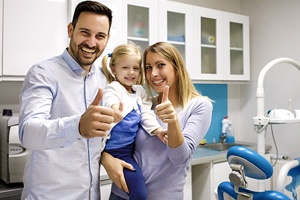 There are countless benefits to scheduling appointments for your entire family at Edgewood Dental. For starters, you won't need to drive to multiple different dentist's across town to accommodate each one of your family members' needs because we offer nearly every dental service in one place! This will save you travel time, money, and hassle.
Because we treat patients of all ages at Edgewood Dental, your children and teens can continue receiving care from us, even into adulthood. This will allow all of their dental records to stay in the same place, leaving less room for miscommunication. Plus, if you have smaller children that are scared of visiting the dentist, they'll be less hesitant when they find out that they can get their teeth cleaned right alongside you!
What Services Do We Offer For the Entire Family?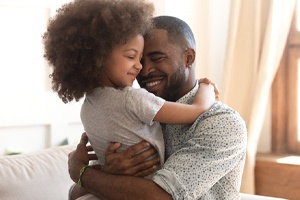 Establishing good oral hygiene when your children are small can encourage healthy habits into adulthood. That's why we offer a large menu of preventive treatments for your entire family. For children, we can provide dental sealants, fluoride treatments, and even sports mouthguards. For adults, we offer oral cancer screenings and TMD or bruxism therapy. For the grandparents, we have a variety of restorative options including dental implants and CEREC same-day crowns.
No matter what dental service you may need, chances are, we've got you covered. At Edgewood Dental, we're passionate about providing treatments that help save parents time, money, and stress down the road. We look forward to being welcomed into your family and providing all of your loved ones with the highest quality of dental care possible.