February 28, 2018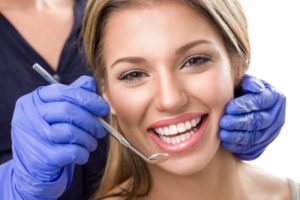 When was the last time that you visited a family dentist in Michigan City? If it's been longer than 6 months, you might not remember how it is to have you or your child visit a dental practice for the very first time. If you're nervous—or think that your little one could possibly be anxious about seeing the dentist—this post is for you!
What to Expect with the First Visit to a New Practice
If it's been a long time since you've visited a dentist, you will need to find a dental practice that accepts your insurance first off. If you don't have insurance, then it's best to explore practices that offer financial plans that meet your needs within your budget.
During your initial visit, catch your new dentist up to speed with you and your family's health. Discuss your medical and oral health history so that your dentist has a better idea of what you've experienced in the past and what your future concerns could possibly consist of.
Then, you'll proceed with a thorough preventive care appointment that consists of an exam and cleaning!
Preventive Dental Care Appointments
The Comprehensive Dental Exam
During this exam, our team is searching for the earliest symptoms of dental issues. There are many things that a dentist may be able to spot in your smile that's just not detectable to the untrained eye. For instance, a lesion you may not have noticed under the tongue could be an early symptom of oral cancer.
These are the problems that we try to keep an eye out for:
Tooth decay
Gum disease
TMJ Disorder
Bruxism (teeth grinding)
Oral Cancer
Your dentist will also take dental x-rays to view the inner and outer workings of your smile. Once these images have been taken, they will be stored in your file for future reference.
The Professional Cleaning of Teeth and Gums
During your dental cleaning, one of our skilled dental hygienists will thoroughly clean between each of your teeth. This helps remove plaque buildup and hardened tartar from the smile. This can help keep dental problems like decay and gum disease from developing.
When was your last dental visit? As you can see, preventive care is the key to maintaining a great smile. So, if it's been longer than 6 months, you should schedule your family's visit with their local dentist in Michigan city.
---
About Our Office
Here at Edgewood Dental, we work to provide excellent dental care with modern practices for patients of all ages. Whether you're looking for a children's dentist in Michigan City or a cosmetic dentist to improve your smile's aesthetics, you can reply on the services our office has to offer! If you need to schedule an initial dental visit, don't be scared to give us a try!
Comments Off

on Need a New Family Dentist in Michigan City? Give Us a Try!
No Comments
No comments yet.
RSS feed for comments on this post.
Sorry, the comment form is closed at this time.