April 14, 2018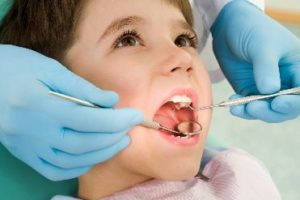 It's not uncommon for children to feel a bit apprehensive about the dentist. Loud noises, the potential for getting a shot, and not-so-delicious fluoride treatments are just some of the reasons kids feel nervous about dental visits.
The good news is that an experienced children's dentist in Michigan City will know how to put your child at ease, provide great dental care and maybe even make it a fun, positive experience! In the meantime, here are three things you can do before your child's appointment to prepare them for a great visit.
Spend Time Talking About the Dentist
It's really helpful to spend some time talking about the dentist or reading some of the fantastic books on the subject before your child's visit.
In addition, this is a great time to find out where their fear is coming from. Have they heard from an older sibling or friend that the dentist's office is a scary place? Have they had bad experiences with doctors and associate the dentist with those places? Knowing the origin of their fear will help you address it more effectively.
When talking about the dentist, be straightforward, but use kid-friendly language such as, "The dentist will brush your teeth," or "Tooth-vitamins will be the last step."
Don't be too detailed and remind your child that going to the dentist is a grown-up thing to do and that everyone does it!
Take Your Child To the Dentist Before Their Appointment
You can help your child feel more comfortable by bringing them to a parent or sibling's dental appointment well before they're scheduled to come in. They can see the office in a low-pressure setting and can even choose a toy from the "treasure chest."
Any positive association with the office like this, no matter how small, will make a big difference when it's their turn. Also, they can get acquainted with the dentist and the environment, which will make it feel much more familiar on the day of their visit.
Schedule For the Whole Family
It's also helpful to schedule more than one person in the family on the day of your child's appointment. Since kids always want to do what mom, dad or an older sibling does, they'll feel more motivated to jump in the dental chair themselves.
And, as always, don't hesitate to talk to your family dentist in Michigan City beforehand. They can give you specific tips to meet your child's needs so that the visit goes as smoothly as possible!
About the Author
Dr. Valerie Haughtington is a family dentist and also a mother of four. With decades of experience treating patients of all ages, she can put even the most fearful or nervous child at ease. Her goal is to provide gentle, compassionate care to all of her pediatric patients to set them up for a lifetime of good dental care. If you have any questions, she can be reached via her website or at (219) 898-4545.
Comments Off

on 3 Ways To Ease Any Fear of a Children's Dentist in Michigan City!
No Comments
No comments yet.
RSS feed for comments on this post.
Sorry, the comment form is closed at this time.