June 27, 2018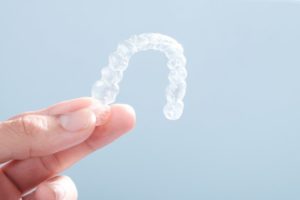 There once was a time when the only way to correct a bite issue was with traditional braces, but through the advances in the world of dentistry, patients have another option. With Invisalign in Michigan City, the process of straightening teeth has become a much more enjoyable experience. As you read on, you'll learn how this method works, who's the right candidate and the rough cost of this procedure.
What are Invisalign Clear Aligners?
Invisalign clear aligners are BPA-free plastic trays that are custom-made to comfortably correct your bite. The process starts with visiting your local dentist for a consultation, at which time the condition of your teeth will be assessed to determine whether you're a good candidate.
As a general rule of thumb, to be eligible for clear braces in Michigan City, a person must be either a teenager or adult with fully erupted permanent teeth. This process also treats patients with mild to moderate malocclusion (abnormal bite). For more complex cases, your dentist may recommend that you be fitted with traditional braces.
How Does the Process Work?
After your dentist assesses your smile flaws and determines that you're a good candidate, he or she will then take a series of 3-D digital images, measurements and bite impressions that will be sent to a trusted lab to fabricate your full set of aligners.
When they're ready, you'll return to your dentist to retrieve all of your trays and will wear each set for roughly two weeks, after which time you will discard them for the next set in the series. You'll continue this pattern throughout the treatment process. Unlike the traditional braces method, where you visit your dentist every four weeks for adjustments, the Invisalign process only requires you pay your local professional a visit every sixth month to ensure that you're on track with the pre-designed treatment forecast. Patients can usually complete the procedure in 18 to 24 months.
How Much Do Invisalign Aligners Cost?
The cost of Invisalign can vary depending on your condition, which includes the complexity of your treatment needs and how well you comply with the regimen given to you. The longer the treatment process, the more trays you'll need, which translates into higher costs.
When you visit your cosmetic dentist in Michigan City for a consultation, you can get more details on what your investment will be.
With your new aligners you'll soon be able to smile with confidence, enjoy better oral hygiene and the ability to speak with more clarity. Reach out to your local professional to schedule an appointment to learn more about Invisalign and get on track to achieving the smile of your dreams!
About the Author
Dr. Valerie Haughtington earned her DDS degree from the Indiana University School of Dentistry and then moved back to her native town of Michigan City to provide dental care for the community. As part of her commitment to excellence, she takes continuing education courses annually and maintains membership in several professional organizations. Dr. Haughtington practices at Edgewood Dental and can be reached for more information through her website.
Comments Off

on Corrected Bite and a Confident Smile with Invisalign in Michigan City!
No Comments
No comments yet.
RSS feed for comments on this post.
Sorry, the comment form is closed at this time.