July 31, 2018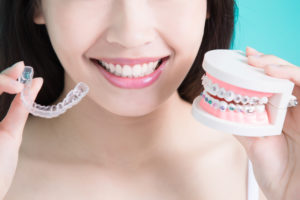 Are you unhappy with the alignment of your teeth, but wary of wearing metal brackets and wires for a year or more? Invisalign offers a wonderful alternative to conventional braces. It's clear, removable, and can give you the same results — straighter teeth and a more confident, attractive smile. If you are interested in getting Invisalign in Michigan City, you'll need to know a few things first. Keep reading for a short and sweet guide to this clear aligner system!
Preparing for Invisalign
In the Invisalign preparation phase, you will want to search around for a dentist who offers this service (if yours doesn't already) and find out whether or not you are a candidate for the treatment. Most people who could benefit from conventional braces are indeed eligible for Invisalign. The clear aligner system can be used to treat gapped teeth and crowded teeth as well as overbite, underbite, and crossbite.
Talk to your dentist about what you can expect with your treatment. Some of the questions you may want to ask include:
How long do you estimate my treatment to last?

How much will my Invisalign treatment cost?

Can I use dental insurance to pay for Invisalign?

Can you compare outcomes with conventional braces vs. Invisalign in my case?
The Invisalign Treatment Process
If, after the consultation process, you decide that Invisalign is the route you wish to take, your dentist will begin with a series of X-rays and impressions of your mouth. These will be sent to the Invisalign lab, where your aligners are created.
After you receive the Invisalign aligners, you can begin the treatment immediately. You should wear each set of trays for one to two weeks before advancing to the next in the system. Invisalign is removable for easy eating and cleaning. You can even take the aligners out before important events or meetings, as long as you reinsert them promptly.
Most Invisalign treatments last between 1 to 2 years, but the total length of time depends on the complexity of your case and how well you comply with the treatment. Lost or broken aligners can result in delayed treatment times and added expense.
After Invisalign
Once your Invisalign treatment is complete, you will need to wear a retainer almost around the clock for a couple of months at least to keep your teeth right where they should be. After a while, you should be able to reduce retainer use to nighttime only. Fortunately, the Invisalign retainer is clear and just as subtle as the aligners you will be have become used to by that point. Wear it as directed to keep your smile as gorgeous as it is as soon as your time with Invisalign is complete!
There you have it — a brief rundown of the Invisalign process. This is a wonderful treatment for many patients. Don't wait to find out if it's a viable option for your smile, too!
Meet the Practice
Edgewood Dental offers comprehensive dental care from the comfort of their modern dental practice. To learn more about Invisalign, get in touch with your general, restorative, and cosmetic dentist in Michigan City by calling 219-898-4545.
Comments Off

on Your Quick Guide to Invisalign in Michigan City
No Comments
No comments yet.
RSS feed for comments on this post.
Sorry, the comment form is closed at this time.