January 7, 2019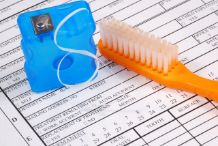 Trying to come up with a New Year's resolution this year? If you want to change things up a bit in 2019 and try something other than the usual diet and exercise plan, why not focus on your oral health instead? It's actually a perfect time for it because most people's dental insurance benefits renew January 1st, so you may as well take advantage! In this blog, you'll find out how several common procedures are covered and learn some great tips for getting the most out of your insurance. With this information, you'll be on your way to achieving the healthy, beautiful smile you've always wanted in 2019!
What Will Your Plan Cover?
Below you'll find the average rates of coverage for many procedures, but, since every plan is different, always make sure to check your individual benefits:
Cleanings, X-Rays and Exams – These visits are considered preventive and are often covered at 100%. The majority of insurance plans cover 2 checkups a year, but if you're pregnant or have gum disease, diabetes, or cancer, they may be covered more frequently. You might also get 100% coverage for fluoride treatments to prevent cavities, so it's a good idea to check.
Gum Therapy – Oftentimes, the first recommendation for gum disease is scaling and root planing, also called a "deep cleaning." These procedures are usually covered at 60%-80%.
Fillings and Root Canals – Fillings and root canals are also usually covered at 60%-80%.
Crowns and Bridges – Many plans will cover crown and bridgework at 50% – 70%.
How Can You Maximize Your Insurance Benefits?
Here are some easy ways to get the most out of your plan this year:
First, consult with a dentist about your oral health goals. That may be as simple as scheduling checkups for everyone in the family, or something more involved like getting a dental implant to replace a missing tooth. Once a dentist understands your goals, they can create a treatment plan that will take your insurance benefits into account to help you get the most from them.
Also, look at your plan to check what your deductible and co-payments are. It's not uncommon to have questions, so don't hesitate to ask your dental office for help.
And if you'd like a more specific idea of what a procedure will cost, a dentist can file a preauthorization beforehand. This is a formal breakdown from your insurance company of what they'll pay so you won't have any surprises.
Lastly, don't forget that your plan has set aside an annual maximum (usually $1,000-$3,000 per person), which is the total amount they'll pay for your dental work over the course of the year.
This is a "use-it-or-lose-it" situation, so you may as well use the money that's been set aside for you to help you achieve your best smile yet in 2019!
About the Author
Dr. Valerie Haughtington is a family dentist in Michigan City and also a native of the area. She wants to help all of her patients get the most from their dental benefits and have great oral health, so she and her staff do everything they can to help people navigate their insurance plans. If you have any other questions about dental insurance, you can contact her via her website or at (219) 898-4545.
Comments Off

on Dental Benefits Just Renewed – Take Advantage With a Dentist in Michigan City!
No Comments
No comments yet.
RSS feed for comments on this post.
Sorry, the comment form is closed at this time.