February 19, 2020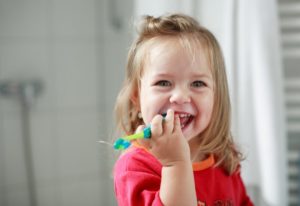 February is about a whole lot more than finding the perfect gift for your significant other. It's also National Children's Dental Health Month! This observance was created as a way to teach young kids and their parents about the advantages of excellent oral health care starting from a young age. Because of this, February is the perfect opportunity to teach dental hygiene habits to your child. Read more as a children's dentist in Michigan City gives a few tips on how to integrate healthy oral habits into your little one's life.
Set a Good Example
There are very few things little kids love more than copying what Mommy and Daddy do. If they see you brushing and flossing every evening before bed, they'll want to emulate that. As soon as your son or daughter is old enough to not accidentally swallow toothpaste, teach them to brush using a pea-sized amount of fluoridated toothpaste. When they have two teeth that touch, you should begin flossing between them. Once they're older and have more developed dexterity, instruct them how to floss on their own.
Let Your Child Pick Out Their Own Brush
The next time you plan on visiting the dental section of your local pharmacy or grocery store, let your son or daughter tag along. Allow them to pick out a toothbrush with their favorite color or cartoon character on it. Also, let them select toothpaste with a flavor they like, such as strawberry or grape. Kids are more likely to enjoy brushing their teeth if they had some say in the buying process.
Reward Good Dental Hygiene Habits
Consider placing a gold star sticker on the calendar for every day your child remembers to brush and floss all on their own. When a certain amount of time has passed in which stickers have been awarded every day, let your little one choose the next fun family outing, like a trip to the park or the movies. Also, reward them for every cavity-free dental visit. Just be sure that reward doesn't have sugar!
Make Regular Dental Appointments
Even if your child is incredibly diligent about daily brushing and flossing, there are spots they're bound to miss. That's where regular dental cleanings come in. During these appointments, the dental hygienist can give your little one's mouth a thorough cleaning as well as an application of fluoride or dental sealants to protect against cavities. Additionally, the dentist can provide advice on how to keep your child's pearly whites in good condition in between visits.
If you're looking for ways to keep your child's precious smile happy and healthy, the tips listed above are great places to start. For more advice, don't hesitate to schedule an appointment with your children's dentist in Michigan City.
About the Author
Dr. Vidas Noreika is a 1991 graduate of the Indiana University School of Dentistry, Indianapolis. His professional memberships include the American Dental Association, the Indiana Dental Association, and the Academy of General Dentistry. He keeps up to date with the latest dental techniques and technology in order to provide the whole family with only the best care that modern dentistry has to offer. To learn more about how to take care of your child's teeth, visit Dr. Noreika's website.
Comments Off

on How to Teach Good Dental Habits to Your Child
No Comments
No comments yet.
RSS feed for comments on this post.
Sorry, the comment form is closed at this time.