August 7, 2020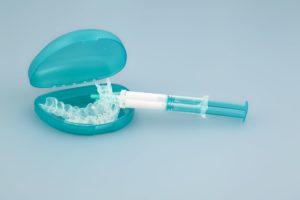 When you look in the mirror, have you noticed your pearly whites aren't as bright as they used to be? You're not alone. Tooth discoloration is a common concern. Nowadays, you have more options than ever to turn back the hands of time to reveal brighter teeth. There are many products available over the counter that claim to offer effective results, but are they the best option? Although they are convenient, they might leave you disappointed with the results. Instead, you can enjoy the convenience of an OTC product and the results of an in-office treatment using an at-home teeth whitening kit from your dentist.

Do OTC Teeth Whitening Products Work?
As you walk down the oral care aisle at the store, you're surrounded by options for teeth whitening. From toothpastes and mouthwashes to strips and gels, you're sure to find a product to meet your needs, right? Unfortunately, while there are many options, you probably won't find one to give you the results you want. OTC products don't contain professional-grade whitening agents, so they won't produce significant change. Not to mention, any improvement that occurs probably won't last.
There are also certain risks involved with OTC products because you aren't under the supervision of a cosmetic dentist. As a result, any untreated dental issues might not be resolved prior to trying to brighten your smile, which can lead to an unexpected complication. You may also experience some side effects of the products, like irritation to the gum tissue or tooth sensitivity.
How are Professional At-Home Kits Different?
When visiting your dentist for an at-home kit, you'll enjoy the convenience of an OTC product combined with the results of an in-office treatment. First, your dentist will ensure you're a candidate for teeth whitening and resolve any concerns, like tooth decay. They'll provide you with everything you need to get your teeth 8 to 10 shades brighter from the comfort of your own home.
The whitening agent is professional grade to deeply penetrate your enamel to resolve tough stains. You'll use the gel with your custom-fit trays, which ensure the even distribution of the whitening agent for consistent results. This also minimizes any irritation to your soft tissues for a comfortable treatment.
You'll use the kit each day for about 2 weeks. As each day passes, your teeth will become noticeably whiter. Your results can last for several years with the right aftercare, like maintaining your oral hygiene and limiting your contact with stain-causing foods. You can also use an at-home kit to touchup your results to help your smile stay brighter for longer.
Get a Bright Smile Today
If you want a brighter smile, don't throw money down the drain on ineffective whitening products. Invest in proven results using an at-home kit from your dentist.
About Edgewood Dental
Edgewood Dental understands each patient's story is unique, which is why we create personalized treatment plans using the latest innovations in dentistry. Besides general care, we also offer cosmetic services, like teeth whitening. We'll help you achieve the healthy, beautiful smile you deserve. Contact our office today to schedule your consultation for teeth whitening.
Comments Off

on Professional At-Home VS OTC Teeth Whitening
No Comments
No comments yet.
RSS feed for comments on this post.
Sorry, the comment form is closed at this time.