March 11, 2021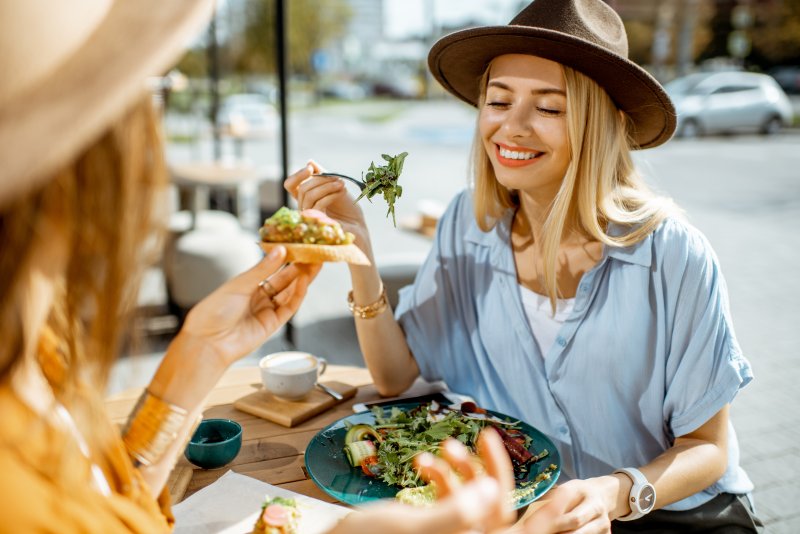 Whether you are struggling with a chipped tooth, permanent discoloration, or slight misalignment, there is one cosmetic dentistry treatment that can leave all of these dental flaws in the past: veneers. These thin shells of porcelain are the secret to the picture-perfect smiles of celebrities like Hilary Duff and Miley Cyrus. While the 10+ year lifespan, lifelike appearance, and incredible durability continue to make them a popular smile-enhancing solution year after year, many patients have one important question on their mind: Will my diet change if I get veneers? Here's the answer!
So, Will My Diet Change If I Get Veneers?
Thanks to their high-quality makeup, veneers don't come with an extensive list of food restrictions. With that being said, like your natural teeth, they aren't indestructible. So, it is a good idea to avoid certain foods that can chip, crack, or otherwise damage your new and improved smile. Therefore, make sure to sparingly indulge in extremely hard foods, dark liquids, and alcoholic beverages.
6 Tips for Keeping Your Veneers in Good Condition
Limiting potentially damaging foods and beverages is a great place to start, but that's not the only thing you can do to keep your veneers in pristine condition. To prolong the lifespan of yours, make sure to:
Brush your teeth for two minutes at least twice a day.
Treat flossing as important as brushing.
Use mouthwash regularly.
Avoid poor dental habits, like smoking, chewing on ice, and using your teeth as tools.
Implement a vitamin-rich diet.
Drink plenty of water.
How Your Dentist Can Help
Your six-month dental checkups and cleanings are extremely important, especially if you have veneers. After all, while the veneers themselves are stain-resistant and cavity-resilient, the underlying teeth certainly aren't. Fortunately, your dentist can conduct a comprehensive oral exam on a biannual basis to ensure there are no dental issues present, like severe decay or gum disease. If there is a concern, they can intervene in the early stages, preventing extensive restorative work down the line. Plus, the professional cleaning portion of your bi-yearly appointments thoroughly cleans every nook and cranny of your mouth, preventing problems from developing in the future.
Veneers can fix everything from misshaped teeth to stubborn stains – and you don't have to give up your normal diet in the process! Just make sure to limit your intake of foods and beverages that could potentially cause damage to keep them in pristine condition for years to come.
About the Practice
At Edgewood Dental, we are proud to help our patients get the smile they've always dreamed of in a warm, welcoming, modern dental atmosphere. Whether you are struggling with one flawed tooth or are interested in undergoing a complete smile makeover, we have a variety of cosmetic dentistry treatments to pick from, including veneers and Componeers. If you are interested in learning more about these smile-transforming solutions or are ready to schedule your initial consultation, visit our website or give us a call at 219-898-4545.
Comments Off

on Will My Diet Change If I Get Veneers?
No Comments
No comments yet.
RSS feed for comments on this post.
Sorry, the comment form is closed at this time.