April 22, 2021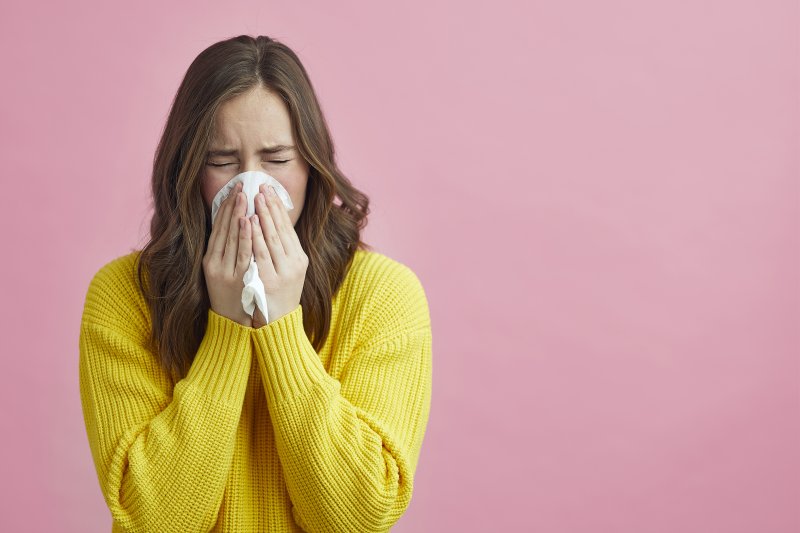 The snow is melting, the temperature is rising, and the flowers are blooming – it must be springtime! While the warmer weather is always welcomed, there is one downside: allergy season. During this time of year, allergens, like pollen and animal dander, become airborne, causing those with allergies to experience itchy eyes, sinus pressure, and a runny nose. Unfortunately, symptoms like these aren't just annoying; they can take a toll on your oral health as well. Keep reading to learn how to protect your smile!
So, How Do Seasonal Allergies Affect Your Oral Health?
Seasonal allergies can be extremely unpleasant to deal with. Luckily, common symptoms, like constant sneezing, typically subside once the wind dies down. The bad news, however, is that the effects can cause lasting damage to your oral health. A few of the most common ways are increased cavity development from dry mouth, bad breath from post-nasal drip, and toothaches from sinus pressure. To protect your smile, it is of the utmost importance that you practice proper prevention!
How to Protect Your Smile During Allergy Season
In addition to stocking up on tissues and allergy medicine this time of year, it's also a good idea to implement the below best practices:
Drink plenty of water.
Brush your teeth at least twice a day.
Floss daily.
Use mouthwash regularly.
Visit your dentist every six months for a dental checkup and cleaning (or sooner if you are experiencing discomfort, soreness, or any other abnormal symptoms).
Eat a vitamin-rich diet.
Avoid other poor dental habits, like smoking, eating too much sugar, etc.
Schedule Your Checkup and Cleaning Today!
If you or your loved ones struggle with seasonal allergies, it is important to practice proper prevention year-round, especially during the springtime. The first step is to prioritize your oral hygiene routine at home and schedule your dental checkup and cleaning if it has been over six months since your last visit. This appointment will provide your dentist with a valuable opportunity to check the condition of your teeth and gums, administer any treatment (if needed), and clean the hard-to-reach areas of your mouth to prevent problems from developing in the future. That way, your smile can remain in pristine condition during allergy season and beyond!
About the Practice
With two phenomenal dentists and a team of hand-picked staff, Edgewood Dental is a place where patients in Michigan City can get quality, comfortable, enjoyable dentistry. Whether you are coming in for a routine visit or need treatment for a throbbing toothache, our team is here to restore and maintain your happy, healthy smile with our comprehensive services and patient-centered approach to care. If you are struggling with oral problems that stem from your allergies, don't hesitate to get in touch with our team via website or by phone at 219-898-4545 to schedule an appointment.
Comments Off

on The Link Between Seasonal Allergies and Dental Problems Explained!
No Comments
No comments yet.
RSS feed for comments on this post.
Sorry, the comment form is closed at this time.